The Inside Scoop: On the Drawing Table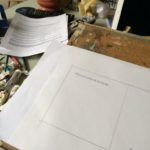 On the Drawing Table: I bounce between several projects at a time, so there will always be a book in the sketch stage and one in the painting stage. I'm currently working on a picture book telling the story of a child's kindergarten check up and his big fear of shots. Also, more Katie Woos and the new Katie Woo spin off series focusing on her friend Pedro. On the writing side, working on a chapter series for first, second graders I've developed. One written, three to go!
Coming out soon (as of the original writing of this post, 2015): Look for the four newest Katie Woo titles: Noisy Music, Cartwheel Katie, Super Scout and Happy Mother's Day. Also a super cute true rescue story from the ASPCA called I Am Nibbles and a two new board books, Thank You, God, for Kittens and Thank You, God, for Puppies.
Parts of this content was originally posted in 2015 on: http://cincyillustrators.blogspot.com